Deadmau5's 'Oberhasli' is what it looks like when the metaverse comes for music fans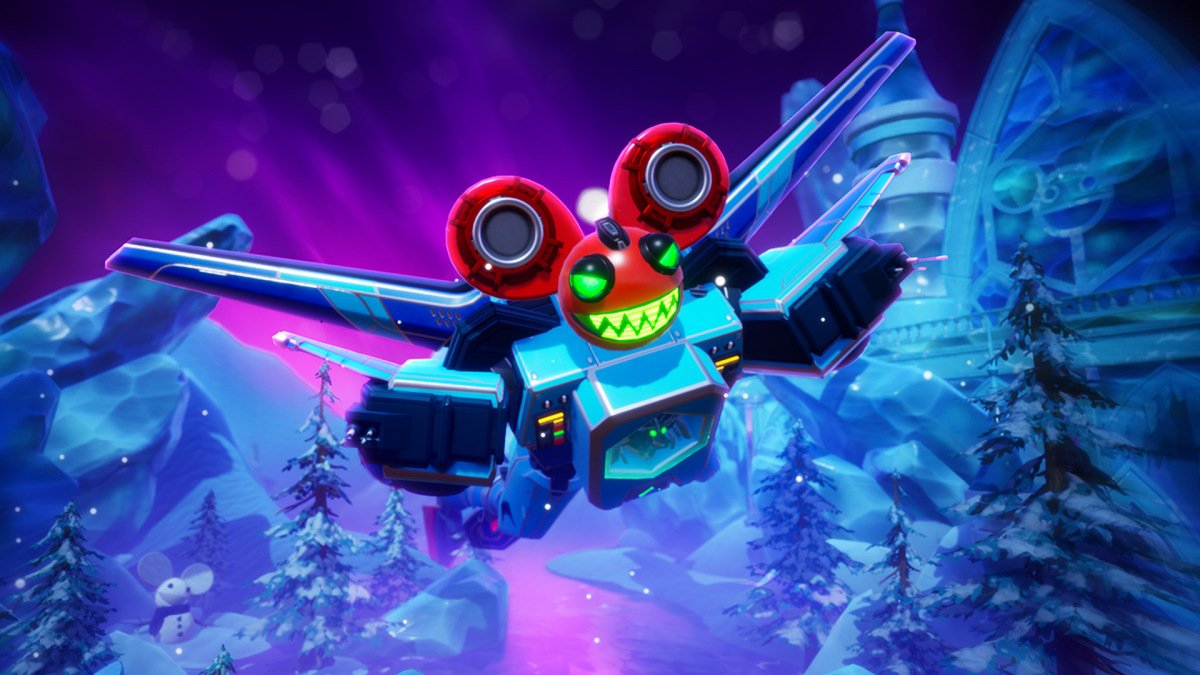 Oberhasli immediately feels like an early vision of how music fandom could evolve in a post-metaverse world.
You may not immediately be familiar with the platform it calls home, Manticore Games' Core. But you really don't need much background to appreciate the visually dazzling surreality of this new virtual creative space, which was built for and will now be curated by the popular EDM producer and DJ, Deadmau5.
"Ever since the big old pandemic clamped down on live events, we saw everyone doing the mad dash to get their virtual presence out in one form or another," Deadmau5, whose given name is Joel Zimmerman, said in an interview with Mashable ahead of Oberhasli's October launch.
So yes, that includes things like Fortnite's blockbuster in-game concerts, which recently featured pop superstar Ariana Grande. But it's also stuff like Phish's "Dinner and a Movie" archival streaming series on YouTube, which culminated in 2020 with the band challenging fans to a game of chess as a 1995 New Year's performance "aired" on their channel.
For Deadmau5, who has a background in animation and programming that predates his music career, giving fans a way to directly interact with an online music event is key. Early examples like Fortnite's Marshmello sets in 2019 were largely passive, with crowds of avatars gathering in front of a digital performance stage. Deadmau5 took note, but envisioned more of a "Passive Experience+, [and] one that was explorable."
Anyone can install "Core" and step into the dazzling Oberhasli, but this is a playground designed with Deadmau5 fans in mind specifically.
Credit: manticore games / deadmau5
Oberhasli, then, is "our first baby step of me being set down a certain path." The sprawling and visually chaotic virtual landscape is a starting point. It's filled with Easter eggs for fans, and it includes both a Fall Guys-inspired mini-game and a virtual concert experience that feels more like a theme park ride. But for Deadmau5, who has taken possession of and responsibility for Oberhasli's ongoing updates now that the world is built, it's only a starting point.
"Probably within the year, I would say, we're gonna start unlocking a lot more cool interactivity," he said. Picking up on a comment I had made about part of the concert resembling a Destiny boss fight, he noted: "Adding a gunfight to that concert is really like five clicks away with Core."
Core is a piece of software that you can download for free from the Epic Games Store. It's not really a game, though there are plenty of games to play once you install it. Core is more of a creative space where anyone with an idea — or even just a willingness to experiment — can dive in and intuitively piece together their own digital creation. It's essentially a sandbox filled with easy-to-use game development tools.
Fortnite maker Epic Games may be best known in the mainstream for its mega-popular battle royale, but the company's most important claim to fame inside the video game business is its Unreal Engine. Games are built using software development tools (often referred to as a "game engine"). Unreal is the Gucci of game engines. It's the machine powering everything from recent gems like The Artful Escape and Returnal to classics like the BioShock and Borderlands games.
Core, then, is like a simplified version of Unreal. It was built with Epic's game engine, and the creation tools it offers are simplified versions of the ones that professional game developers use. As an overall experience Core is meant to be pick-up-and-play, and anything you build there lives exclusively inside the platform.
"Probably within the year, we're gonna start unlocking a lot more cool interactivity."
If you have it installed, a plain old link is all it takes to jump into someone's creation. That's how I got to check out Oberhasli before it was released. Manticore sent me a link, clicking it whisked me off to the right destination in Core. This new home for Deadmau5 fandom is one more destination in a crowd that includes homemade survival games, battle royales, farming simulators, and basically anything you can imagine. Where a concert in Fortnite is a standalone affair, a customized space inside Core is a fixture.
That's where the appeal lies for Deadmau5. He knows that Manticore, just like Epic with its Fortnite concerts, would love for Oberhasli to be a gateway into the platform for new users. But if world-renowned DJ Deadmau5 was just Joel Zimmerman, programmer and digital artist, he'd still be welcome there, with all the tools he'd need to build something on the scale of Oberhasli.
"Things that have absolutely nothing to do with me are inherently in Core as well," he said. "I have no problem with that because I'm not being locked into a style guide."
That creative freedom is what makes Oberhasli, and really every other Core creation, stand out. While there's some uniformity in the way certain things look — such as basic character avatars and outfits — there's no guiding philosophy for creators to adhere to. Oberhasli is a celebration of Deadmau5, full stop. It's not his personality filtered through someone else's vision, beyond the basic building blocks that give Core a somewhat cartoonish look that isn't so far off from Fortnite.
Stepping into Oberhasli's concert space, which replays the headlining feature of the new virtual space on a schedule, is like hitting play on a music video, except you're walking around inside it and poking at anything that seems interesting. As the 10-minute set plays, you cycle through environments that fit the musical mood of the moment. They're all filled with different ways to directly engage.
These aren't just static scenes where your avatar stands around and watches. What starts as a neon-drenched dance hall transforms in an instant as the floor melts away and concertgoers— or is it players? — drop into a circular pit lined by rainbow-colored pulsing beats that are reminiscent of the lights on an equalizer. In the distance, a giant, chomping Deadmau5 head is waiting at the pit's terminus. After players are gobbled up the scene shifts once again to an undersea setting as the music dials back to a slower and more chill tempo.
There are several such scene shifts throughout the event. At one point, you're set loose in an industrial space that's all conveyor belts and pulsing hydraulic rods (that double as jump pads), while an enormous robot, which looks like the love child of Voltron and a Deadmau5's DJ rig, fires emerald-colored eye lasers into the crowd. This leads directly into the gripping finale, a pseudo-chase where the Deadmau5 Voltron, now flying, pursues the players through a lava-scorched landscape while a giant, Deadmau5 head-shaped mushroom cloud hangs in the sky.
None of it is genuinely live. That's a hurdle of our current technical reality, where performing in real-time before a crowd of player-controlled avatars is limited by the number of people who can be crammed into a virtual lobby. (In Core, that number is 32). But the audiovisual intensity of the event coupled with the many small ways you can interact with each space creates a kind of energy that feels like the distant cousin of being in a dance hall, moving to the beat as it's created on the spot.
"I'm not hanging up the mouse head and saying I'm just gonna throw all my shit in here."
"That's the fun part," Deadmau5 said. "There's a billion ways to think of that [energy exchange]." He's already imagining scenarios where visits to Oberhasli can be further gamified with the dangling carrot of virtual rewards or an Achievements-style point system for players to chase. Perhaps even team-based exercises that split the gathered crowd, giving them proverbial levers to pull that could influence the way things play out.
"[Imagine] they get to vote on the next sequence of events," he offered. "Or events that have taken place in previous performances that they really liked, that I could re-inject back in [when the vote goes a certain way]." While the march of technology could eventually allow for more of a truly live performance, that's not really the goal with Oberhasli as Deadmau5 sees it.
"For me, the experience is more leaning toward the gamification of the event, because [Core] is inherently a game platform," he said, "I would say not all Deadmau5 fans are video game fans, but at least the ones that are video game fans, and that are in this little section of the metaverse, are music fans. So it's a good crossover."
"I know I'm hitting a narrow margin of everybody that I have to hit as my Deadmau5 schtick goes," he added. "But I'd like to see that widen up once you can successfully illustrate or demonstrate that this type of interaction is available. Thus bringing more people into just the whole idea of game engines being the new interactive music video."
That's where Manticore's ongoing efforts to develop Core play a key role. For now, the platform is only available for Windows through Epic Games Store. But an iOS version is coming in 2022 "for sure," according to studio co-founder Jordan Maynard. It's also in development for unspecified consoles, and a planned cloud gaming release should open access up to pretty much any internet-connected hardware that sports a full-featured web browser.
It's hard to fully capture the visual variety at play in Oberhasli. It's a space that's built for exploration and discovery.
Credit: manticore games / deadmau5
For Deadmau5, the now-launched Oberhasli is meant to live on (and on and on) as a space for his creative pursuits to live. Primarily his game and game development ideas, but bigger projects as well. "I'm not hanging up the mouse head and…saying I'm just gonna throw all my shit in here," he explained, "But the things I want to do in terms of interacting with my online community, I would prefer to do there."
If that means tweaking Oberhasli or working with Manticore on finding ways to, in Deadmau5's words, "synergize a couple of different platforms" — he cited Twitch as an example — then that's on the table too. "Some people are just happy to watch, and don't necessarily [want to] go out and…rip two [or] three grand on a gaming PC they don't play games on just to come in and enjoy the fun."
For someone like me who treats music and live performance as something adjacent to a religious experience, it's a compelling pitch. One of the more positive lessons of the pandemic, if there's any positivity to draw from our miserable shared trauma, is that certain fundamentally in-person experiences translate surprisingly well into virtual settings.
Oberhasli follows along from the Fornite concerts and band vs. fan remote chess matches, evolving the notion of what's possible when a tech-literate performer turns their creative energies toward a new kind of canvas. However we end up defining "metaverse" in the end, you can be sure our cultural faves in music — and nearly any other medium — are coming along for the ride.
For all its flaws as a movie and a book, Ready Player One got that concept perfectly right. So with Core and Oberhasli together, we're seeing a Deadmau5 experiment that presses hard against the limits we've seen so far. It's abundantly clear after even a few minutes spent inside his virtual play space that those boundaries are already ripe for expansion.
Article Source and Credit mashable.com https://mashable.com/article/deadmau5-interview-oberhasli-core-metaverse Buy Tickets for every event – Sports, Concerts, Festivals and more buytickets.com