LeBron James Fortnite Space Jam 2 Crossover Skins Revealed After Leak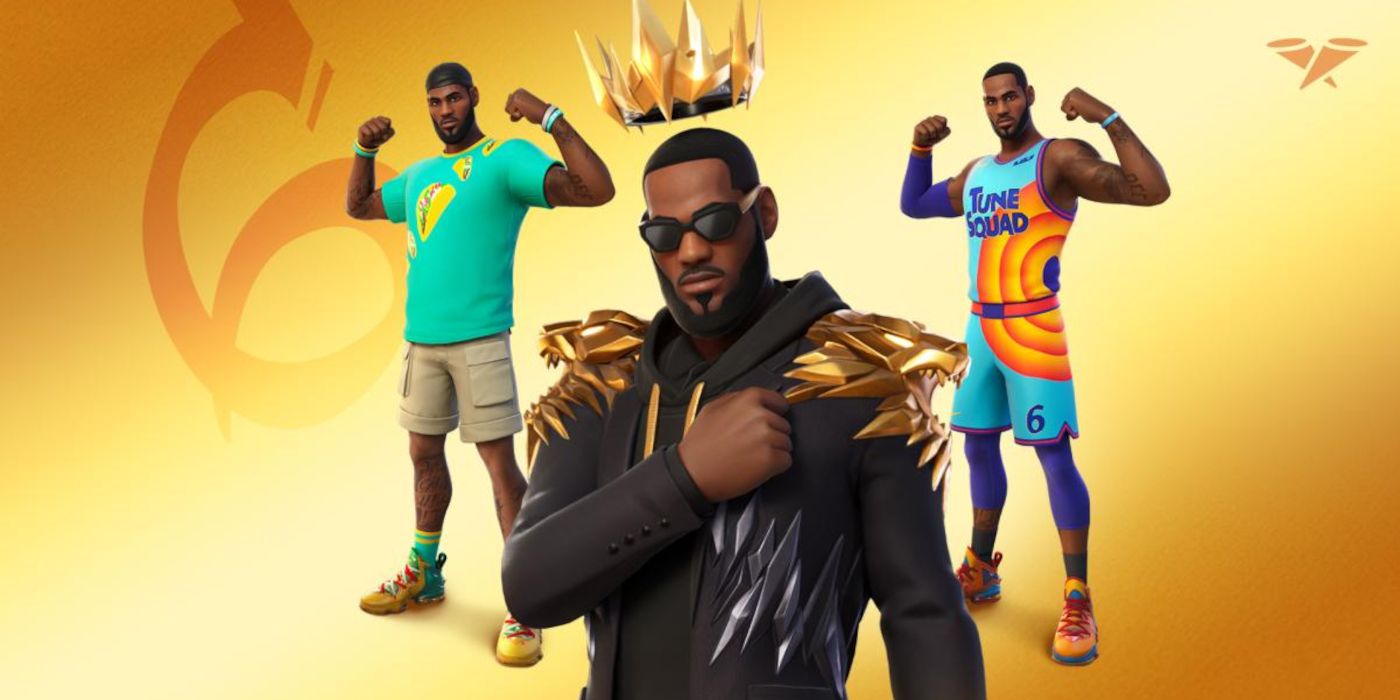 The upcoming LeBron James Fortnite skin have leaked out ahead of its alleged July 14 release date. The cosmetic addition is timed to coincide with the release of Space Jam: A New Legacy later this week, a movie where LeBron also ventures into the virtual world alongside animated co-star Bugs Bunny. The news of the skin hasn't been officially confirmed, but the leaked render confirms the LeBron James Fortnite rumors that have been circulating for the past week.
When released, LeBron's trio of looks will be the latest release as a part of Fortnite's Icon Series, which brings popular streamers and other real-life celebrities into the game. It premiered at the start of 2020 with an official Ninja Skin and has since expanded to everyone from Fortnite musical guest Travis Scott to DJ Marshmello. This is in addition to Fortnite's numerous other collaborations with fictional characters. Not only can a typical game of the battle royale feature video game characters like God of War's Kratos and Halo's Master Chief going after a Victory Royale, but it can also see Marvel and DC heroes clash as footballers from the NFL, action movie hero John Wick, and the Demogorgon from Stranger Things look on from a carefully constructed base.
Related: Space Jam 2 Game Revealed For Xbox Game Pass By Bugs Bunny
Twitter user @FNinformation released an official-looking render featuring three looks for King James, including one that lives up to that nickname. Players in Fortnite who grab the skin can choose to become a regal version of the Basketball start with a hovering crown, golden lion shoulder pads, and some rather cool shades. The other variations are less intricated, including one that features LeBron chilling in shorts and a teal t-shirt emblazoned with a trail of tacos. The third shows LeBron representing the Tune Squad, the basketball team he heads up alongside the Looney Tunes in Space Jam: A New Legacy.
Update (7/12/2021 2:10 PM EDT): Epic Games has since confirmed LeBron James arrival in Fortnite Icon Series. The LeBron skin will launch on July 14 with two outfits (each wearing his new Nike LeBron 19 shoes), the LeBron James and Tune Squad configurations, and the latter also comes with a Taco Tuesday Style variant. A new loading screen featuring the basketball star will also be featured in the game, with all of the LeBron content set to promote the July 16 premiere of his starring Space Jam 2 role.
Prices on Icon Series skins have ranged from 1500-2500 V-Bucks in the past, with the higher prices netting players a bundle of items alongside the skins. Because the LeBron James Fortnite skin hasn't officially been announced as of yet, it's unclear what the exact price will be or if there will be any other in-game events to accompany it. Considering that the skin doubles as a movie promotion, it would be easy to see a limited-time creative mode centered around basketball or perhaps some other Space Jam integration. Either way, if the rumors hold true, players will be able to hit a slam dunk on 99 other battle royale competitors starting on July 14.
Whether players are big NBA fans or simply dying to see the return of Space Jam, it's highly likely that LeBron James will be a popular addition to the world of Fortnite. The renders that leaked online today match up consistently with previous skin leaks, and the King James skin that heads up the group would be an amazingly intricate fan creation if the image was faked. The only real negative is that Bugs Bunny can't join in the pop culture cavalcade alongside his new NBA co-star, but it's always a case of "never say never" when it comes to Epic Games and their ever-expanding video game behemoth.
Next: Looney Tunes Deserves Its Own Kingdom Hearts-Style Game
Source: @FNinformation/Twitter
Article Source and Credit screenrant.com https://screenrant.com/fortnite-lebron-james-skin-leak-space-jam-2/ Buy Tickets for every event – Sports, Concerts, Festivals and more buytickets.com