Fortnite Rift Tour Concert Will Feature "Record-Breaking Superstar"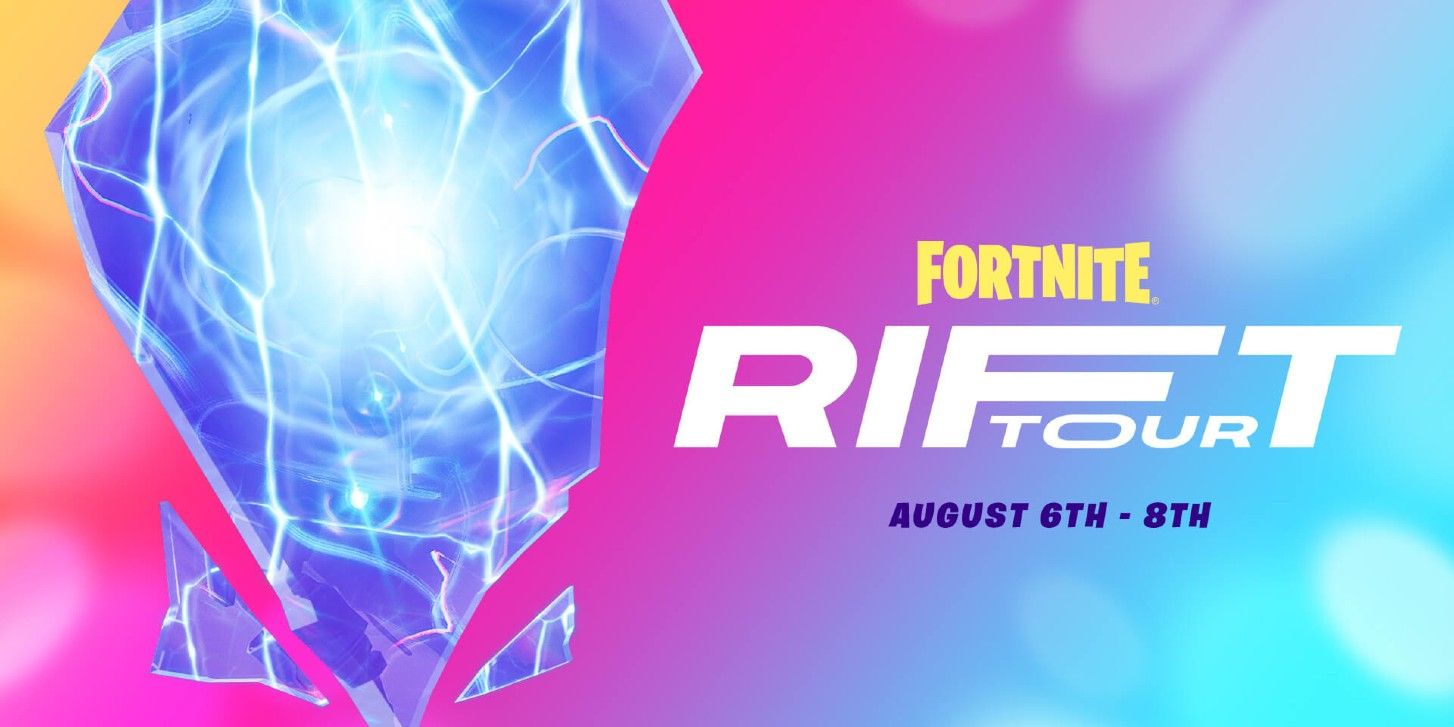 Epic Games has announced the upcoming Fortnite musical Rift Tour, which will feature a record-breaking superstar as well as new in-game content for players to enjoy. The latest star-studded Fortnite event will take place next month, with the first wave of new Rift Tour quests beginning from today, July 29.
Fortnite is no stranger to hosting in-game events that defy what a video game can be. The free-to-play shooter has evolved from a multiplayer online game into something much more, offering in-game experiences including movie screenings and live shows. The title previously made waves by hosting movies such as Christopher Nolan's Batman Begins and Inception as part of the Epic Movie Nite event, and has also hosted musical concerts. The title's first in-game music concert took place in 2019, and saw Marshmello and Fortnite join forces for a showstopping event that captivated the internet.
Related: Nolan's Batman Begins, Inception & Prestige Streaming On Fortnite
The Rift Tour is the next musical showcase awaiting Fortnite fans and will take place from August 6-8. Announcing the news, Epic Games promises "a musical journey into magical new realities," alongside an as-of-yet unnamed "record-breaking superstar." Ahead of the official reveal of the music legend, players are able to unlock rewards for the first wave of Rift Tour quests, available from July 29 to August 8. "Before the Tour Rewards" include the Cosmic Cuddles Loading Screen, Rift-sterpiece Spray, and Cloudy Kitty Emoticon. Players logging into Fortnite from today will also spot the new Rift Tour Tab in the game menu. The new Tab will allow players and their friends to "schedule the showtimes you plan to attend, as well as keep up-to-speed on the latest Rift Tour Quests."
Epic may not have confirmed who the musical act will be, but players think they already know who to expect. Ariana Grande is believed to be the big name behind the Rift Tour thanks to a Fortnite leak earlier this month. The leak also claimed that along with an Ariana Grande concert, the game would also be getting Suicide Squad skins, something which has now been confirmed as true. While the concert's star has yet to be announced, it does look likely that Grande will be Fortnite's next big celebrity appearance.
Grande's appearance in the game may be under wraps for now, but it's likely that the superstar's role will be similar to that of Travis Scott. Scott performed an in-game concert entitled "Astronomical" back in spring 2020, complete with a giant character model of the rapper. The massively successful Fortnite event saw over 12.3 million concurrent players at its peak, proving to be one of the biggest digital events of the year. Whether or not an Ariane Grande performance can top that figure remains to be seen, but players shouldn't have long to wait to find out.
Next: Why Fortnite's Cosmic Summer Celebration Event Was Pointless
Source: Epic Games
Article Source and Credit screenrant.com https://screenrant.com/fortnite-rift-tour-concert-date-event-ariana-grande/ Buy Tickets for every event – Sports, Concerts, Festivals and more buytickets.com