Fan Army Face-Off 2020: The Quarterfinals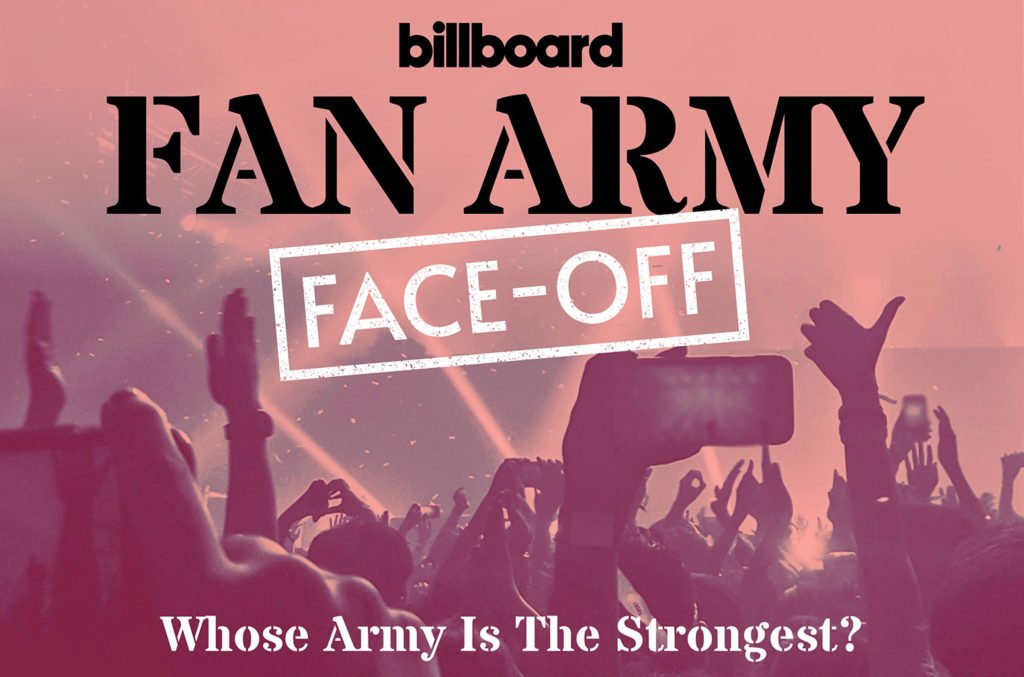 We've reached the quarterfinals of Billboard's Fan Army Face-Off.
Eight fan armies — EXO's EXO-L, Super Junior's E.L.F, TWICE's ONCE, Liam Payne. Niall Horan, Taylor Swift's Swifties, Louis Tomlinson and Harry Styles — are left to battle it out for a place in the semifinals.
EXO's path to round 4 included beating SEVENTEEN, Lana Del Rey, and Ariana Grande. Super Junior bested TOMORROW X TOGETHER, Billie Eilish and Beyonce. Liam Payne ousted Kanye West, Marshmello, and Jennifer Lopez. Niall Horan fans out voted Shakira, NCT 127, and Madonna. Taylor Swift's Swifties overcame Halsey, Lady Gaga and Katy Perry. Louis Tomlinson defeated The Weeknd, Selena Gomez and Red Velvet. And Harry Styles got the better of Bad Bunny, Shawn Mendes and Super M.
To vote, click on "Vote Now," enter your email and make your picks!
Round 4 ends on Sept. 29 at Noon ET. See the full list of matchups below!
{"nid":"9439523″,"type":"post","title":"Fan Army Face-Off 2020: Whose Army Is The Strongest?","relative_path":"\/articles\/events\/fan-army\/9439523\/fan-army-2020\/","media":{"width":1548,"height":1024,"extension":"jpg","mime_type":"image\/jpeg","type":"image","path":"https:\/\/static.billboard.com\/files\/2020\/09\/01-fan-army-update-2020-billboard-1548-1598967705-compressed.jpg","sizes":[{"path":"https:\/\/static.billboard.com\/files\/2020\/09\/01-fan-army-update-2020-billboard-1548-1598967705-compressed.jpg","width":1548,"height":1024},{"path":"https:\/\/static.billboard.com\/files\/2020\/09\/01-fan-army-update-2020-billboard-1548-1598967705-compressed.jpg","width":1548,"height":1024}],"orientation":"landscape","id":"9443271″,"caption":null,"credit":null}}
EXO vs. Super Junior
TWICE vs. Liam Payne
Niall Horan vs. Taylor Swift
Louis Tomlinson vs. Harry Styles
{"account_id":"1125911414″,"id":"6187464388001″,"title":"Which Fan Army Is the Strongest? | Billboard News","featured_media":"9444551″}
Article Source and Credit billboard.com https://www.billboard.com/articles/events/fan-army/9453749/fan-army-face-off-quarterfinals/ Buy Tickets for every event – Sports, Concerts, Festivals and more buytickets.com